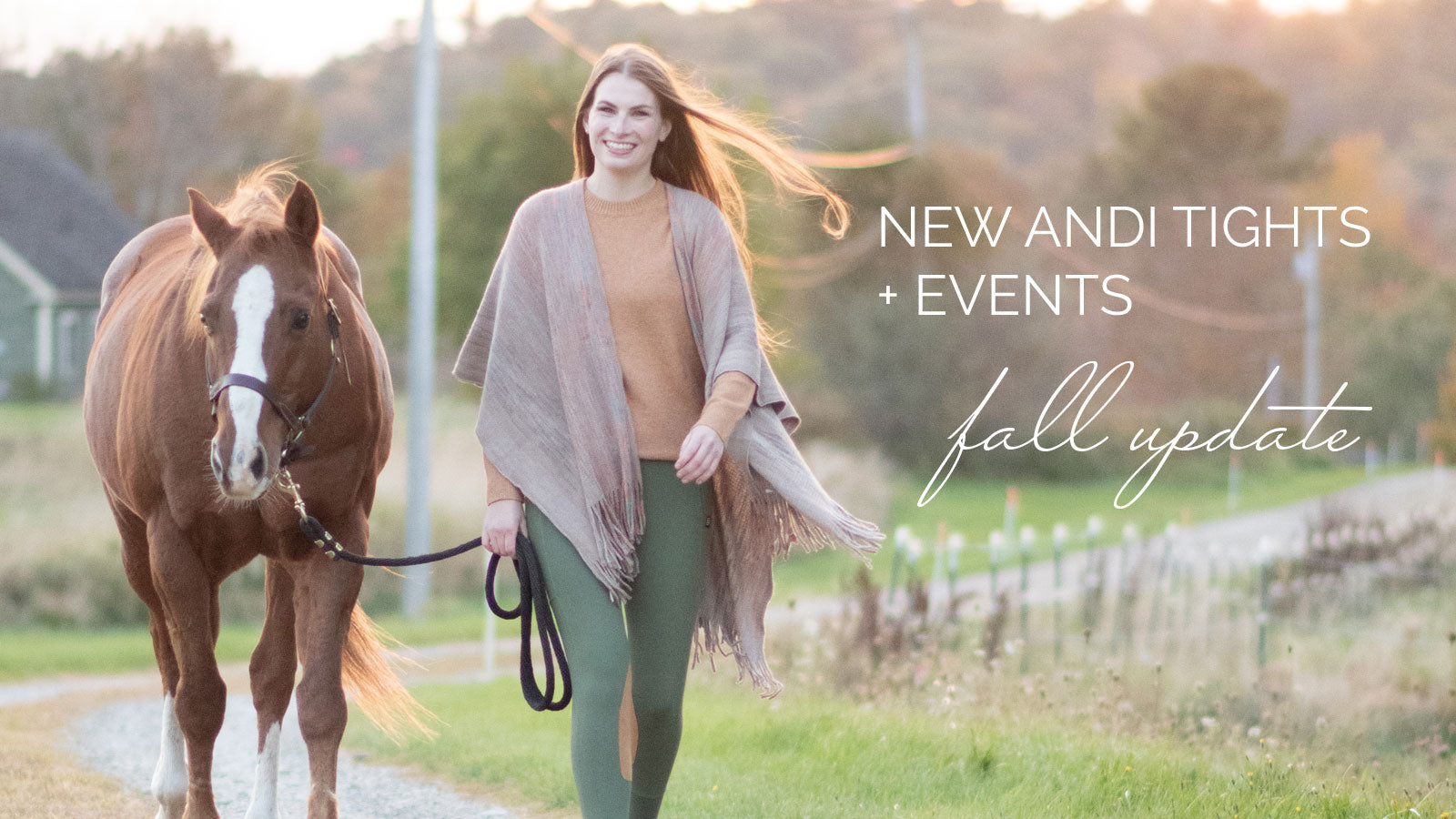 Fall 2022 Update
This week I drove up to North Philadelphia and picked up new colors of the Andi pants from sewing. I wasted no time once home to try on the espresso color. It's a deep, rich brown that I can't wait to pair with a cozy sweater!
We haven't had this style in stock for a while, but when I saw the new colors available in this fabric I fell in love. There will be three darker colors for fall, and three lighter colors launching in early spring. 
What's different about the Andi tights? It's all in the fabric:
This fabric has a firm compression and I have made adjustments for this launch to correct for the fit. If you've ordered these before: no more needing to order up a size! 
This silky fabric has amazing capacity for staying clean - perfect for clipping, grooming and shedding season. 
Being a nylon blend, it will keep you just a bit warmer for fall into winter and back into spring. 
While sewing is done locally, the fabric for our tights is sourced all over the world. Take our Adler breech for example. It is made from fabric sourced from Brazil. The fabric production alone can take up to 8 weeks. Then add on shipping to the US, customs processing, and then shipping again to the production facility here in Philadelphia. Finally another 6-8 weeks in cutting and sewing. That's easily 5 months from fabric order to completed tights - and even with the best pre-planning there can be hiccups.
 In this case, somewhere between customs and shipping to Philly... 6 of the 9 rolls were lost in the system. While I was hoping for an October restock and launch of a new color breech, it's currently on pause while we sort the missing fabric. Please send good thoughts that the rolls will be found and delivered! 
In the meantime, fabric for new PJ tights (and a new matching crop top and neck scarf) have come out of cutting and are now on to sewing. Expect to see these by the end of October instead! 
 Lastly, BOTORI will have booths at three upcoming shows in the fall:
Devon Fall Classic, Sept 15-17 in the gazebo
Maryland 5 Star, October 13-16 in Chalet way
Equine Affaire, November 10-13 in the Better Living Center
Let me know if you will be there and I'll see you at the booth! 
:) PJ
Photo by Xenophon Photography of in the Andi tights in Fern Green, paired with our limited edition Fall Shawl.
Originally posted September 9, 2002