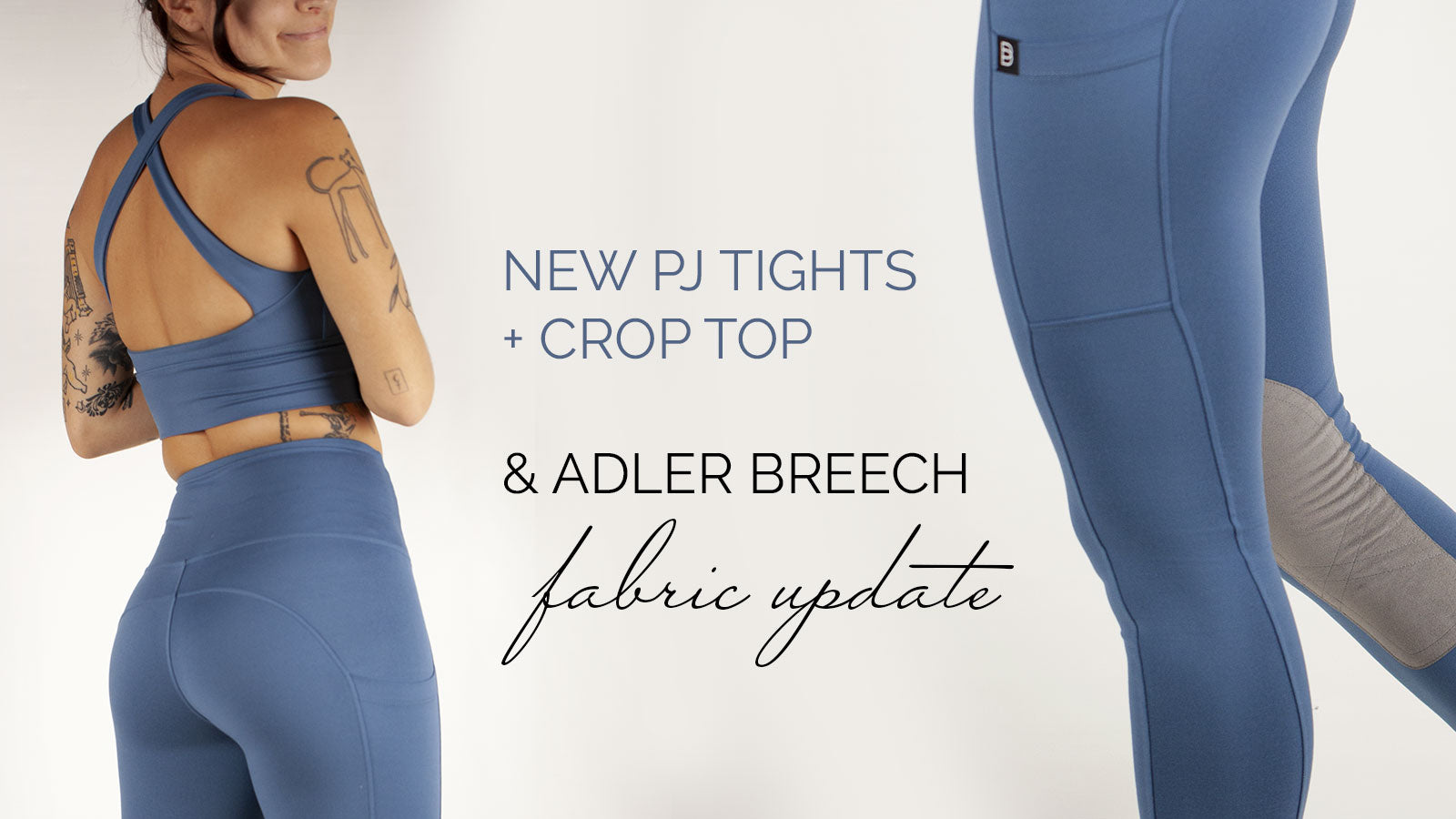 Adler Breech Fabric Update
I wanted to give you an update since I last emailed about the missing Adler fabric. Good news… most of it was found and delivered!
(If you didn't see the previous journal entry, here's a quick recap: 6 of 9 rolls of fabric from Brazil were lost for several weeks after customs clearance, delaying our breech restock. 8 rolls were eventually located with one rogue roll still lost in the system.)
Now that we are back on track, I hope to be picking up the completed breeches in the next week or so. There will be a few colors restocking, and one new color unveiled. Until then, all of the petite Adler and select colors of the regular Adler are on sale 25% off until sold out!
Why the sale? Some colors are just at the end of stock, and in the case of the petite sizing I have made pattern changes to better fit the petite form. After some great customer feedback, the pattern maker helped me tweak the rise (shortened the height from crotch to waist .25"), remove 1" of excess fabric in the lower crotch area (no extra fabric folding when seated in saddle), and lastly we fixed a glitch with the belt loops that caused them to be a .125" too tall compared to the waistband. These may sound like such small numbers but after wearing the new sample pair many times - including to my riding lesson this morning - I can verify that the new fit is super! There will also now be petite sizing in the full range from XS-XL.
If you are more into tights than breeches … have you seen the newest PJ tight colors and the matching crop tops? I'm all about comfy lounge wear this time of year, especially when it's too cold and dark in the morning to get out of bed. My vision for these cozy tights was one set of clothing that could go from bed to gym to barn without a change in between. (Wear as pajamas AFTER the barn at your own discretion. Hehe.)
Want to see the dusty blue set in action? If you are on Instagram, check out Bethany's transition reel here.
 In other news, we just finished up a beautiful weekend at Maryland 5* at Fairhill, and Retired Racehorse Project in Lexington, KY. If you didn't make it to either of these events, we have one more planned this year - and its a big one! Visit our booth at Equine Affaire in West Springfield, MA this November 10-13. We'll be in a big corner spot in the Better Living Center (#650). Expect TONS of sale items and holiday gift ideas. Plus a cute reusable shopping bag with every purchase. 
Let me know if you will be there and I'll see you at the booth!  
:) PJ