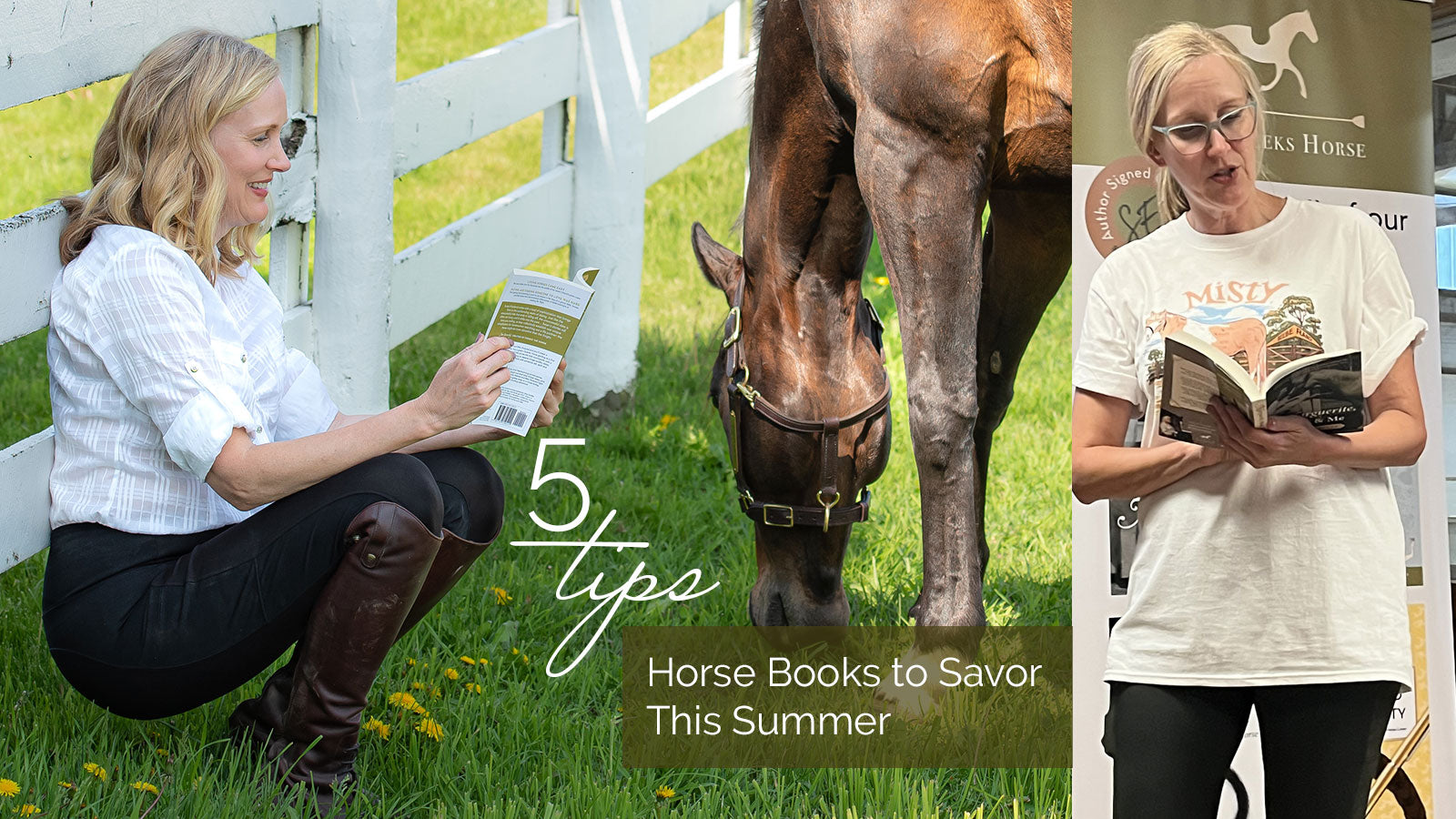 5 Horse Books to Savor This Summer
by Susan Friedland
Before I was a rider, I was a reader. I devoured as many books about horses and equestrian sport as I could, thanks to my local library and Scholastic Book Fairs. My favorite author was (and still is) Marguerite Henry. She opened up the world of horses to me in her beautiful stories like Misty of Chincoteague, when I had no way to get to horses in person. 
My obsession with the works of Marguerite Henry led me on a two-year historical journey to uncover never-before-told secrets of her personal life, and capture the magic that infused her writing. The result is my new release Marguerite, Misty and Me: a Horse Lover's Hunt for the Hidden History of Marguerite Henry and Her Chincoteague Pony. 
I kayaked the waves off Chincoteague Island, watching the famous pony swim, interviewed friends of Marguerite, such as a man who earned seventy-five cents to ride Misty on trail, and read unpublished Marguerite Henry manuscripts at an academic archive as part of my research. I learned Marguerite was a voracious reader of horse books, and since I love them too, here are 5 horse books you will savor during the end of summer:
Marguerite, Misty and Me
by Susan Friedland ;)
Part biography, part equestrian memoir, my fourth nonfiction horse book reminds me of a horse girl's Julie and Julia. I hope you will read it and fall in love with horses all over again. Click here to learn more.
Broken
by Fred Kray
If you're a true crime lover, you will likely be sucked in by Broken by Frey Kray, a superfan of Alydar, the stallion whose mysterious death in 1990 led to an insurance payout of over $40 million. 
Kray's background as an attorney and his love for the horse propel him to interview dozens of people and pore over evidence. There's an accompanying podcast which I started and couldn't stop until I was done with the most recent episode. Perhaps you can help solve the mystery and bring justice to an iconic racehorse who deserved better. 
Finding Gideon
by Sarah Hickner
Speaking of racehorses, as a young horse lover, Sarah Hickner dreamed of galloping Thoroughbreds. She attended college in Kentucky to pursue the dream, which turned into somewhat of a nightmare. The opening chapter starts with a freak accident on the track. Soon after, Sarah's heart horse, Gideon, disappears. Although this book is a memoir, it's written like fiction. Experience the adrenaline of riding a racehorse at speed from the safety of your comfy chair or poolside lounger with Finding Gideon. 
Foaling Season
by Natalie Keller Reinert
If equestrian fiction is your jam, you need to read Natalie Keller Reinert books. Here's just one horse book recommendation out of her dozens of titles: Foaling Season.
Foaling season is a series of late nights, early mornings, and fresh beginnings. At Briar Hill Farm, professional event rider Jules Thornton-Morrison knows a thing or two about starting all over again. But getting back in the saddle after having a child is an emotional battle she can't fight on her own. Fortunately, Jules has friends at her back. Join the barn crew in a hidden corner of rural Florida where gleaming horses graze, friends gather, children play, and riding skills are honed.
Horses Adored and Men Endured
by Susan Friedland
When I was ten I wanted to marry a horse. By the time I was in my mid-30s and still single, I thought I probably would end up marrying my horse--there were no suitable suitors. Horses Adored and Men Endured overshares my most embarrassing moments as a horse girl trying to navigate dating. Although most of the men I met were lame, the horses I knew were gentlemanly and true. Enjoy my first book, which one reviewer described as a rated-G equestrian version of Bridget Jones's Diary. 
If you love to scoop up horse books too, score all four of my equestrian titles with a special $20 discount on this horse book bundle. 
Happy reading and riding!
About Susan
Susan Friedland never grew out of that horse phase that started when she was loping around her yard on a hobby horse back in the day. In addition to her books and writing for equestrian magazines, she's been actively blogging on her award-winning website, saddleseekshorse.com since 2013. Susan co-hosts the Horse Illustrated Barn Banter Podcast, and is a public speaker—her most recent gig was sharing the history of Marguerite and Misty at the Museum of Chincoteague. When she's not traveling on equestrian adventures, she's trotting around on her OTTB, Tiz A Knight in her home state of Illinois, or wintering in Ocala.
Connect with her Facebook and Instagram @saddleseekhorse.
Visit her bookstore at saddleseekshorse.shop
Why Susan loves BOTORI
My BOTORI tights and breeches have been wardrobe must-haves for the past several years. I love the durability and sleekness of the BOTORI line. Whether I'm riding my horse, Knight, with my phone tucked in deep in the pocket, or giving presentations, while sporting an "equestrian chic" vibe, my BOTORI pieces exude comfort, practicality and style. 
Photos by Carolyn Rikje Photography