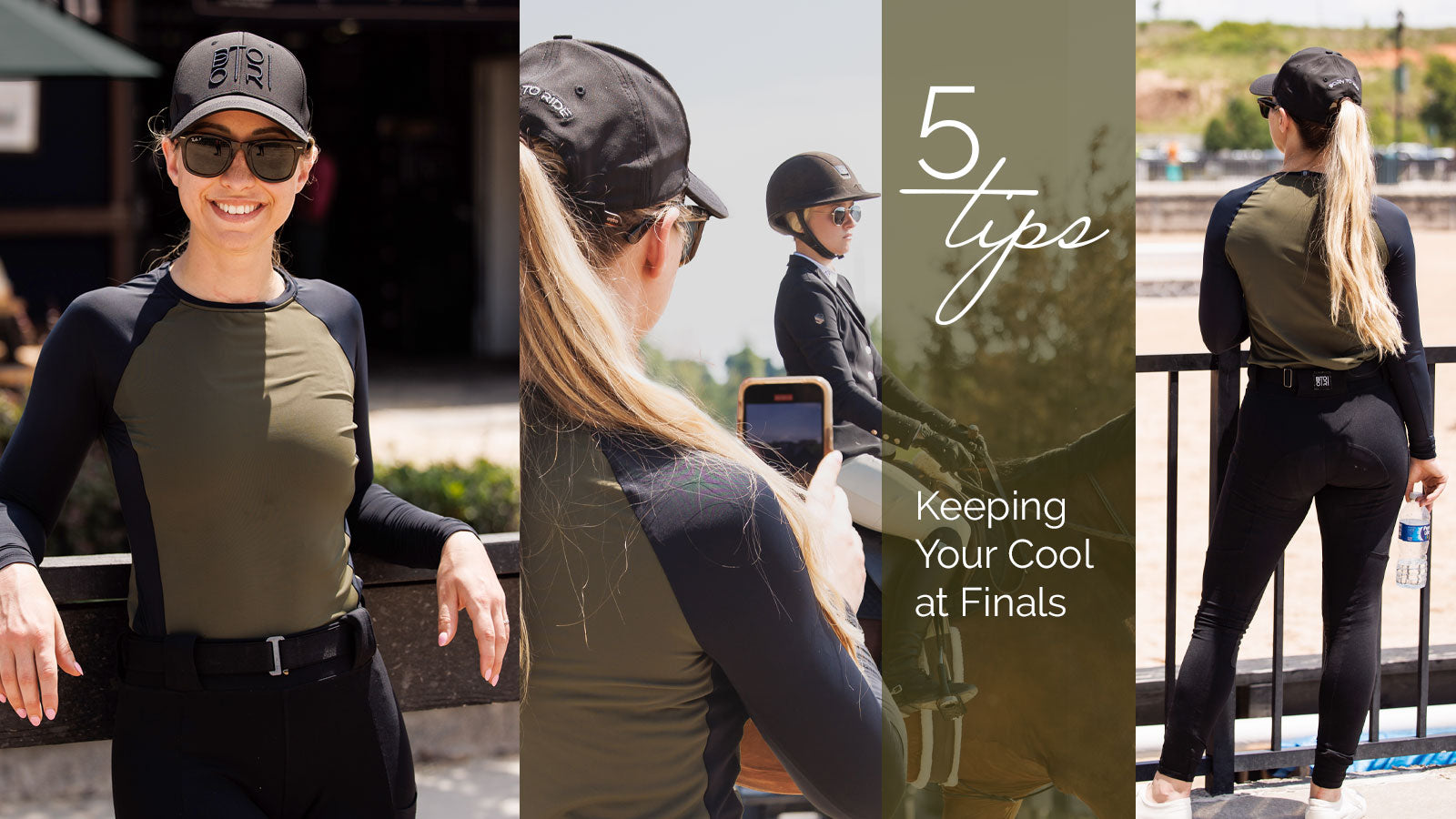 5 Tips for Keeping Your Cool at Finals
Whether it is your first time going to finals or this is a repeat accomplishment, the horse show jitters can definitely get the best of us. Check out these five tips to help keep your nerves in check!
Stick to Your Routine!

Try to do things the same as always, within reason of course. Some of us take this to extremes (I'm at-ing myself here). I always do my own grooming, tacking up, and aftercare because I'm a creature of habit. I keep it the same at finals. If you have a groom at most shows, finals is not the time to see if you are a DIY-er. 

Make Sure to Eat.

Our brain and muscles cannot function without nutrients. It is important to be aware of what you're eating in a non-restrictive way. Equestrians should fuel similar to that of marathon runners. For example, eating high fiber foods can trigger GI distress which can happen due to pre-show jitters at baseline - no need to add to the tummy upset if we can avoid it. For a better idea of what to fuel with the day of a show consult your favorite dietician! 

Limit Caffeine

. This one can be tricky. Many of us consume caffeine every day as part of our routine. You want to make sure to not over caffeinate - which can lead to anxiety and more GI upset. On the flip side if you are used to daily caffeine you do not want to cut it out completely. I find I have to kick my venti down to a tall at least, if I'm feeling extra nervous I exchange my normal coffee or latte for a chai tea. 

Make a Plan!

Look at your course, walk the lines. Envision a plan, what do you want to do? How do you want the round to feel? I'm still working on this next part but try to not hyperfocus on what you think will go wrong. For example, "he might break here," "she might peek here," "I feel like he'll chip here." Be careful with these types of thoughts, these can begin to overwhelm your positive thoughts on the round and take over. Instead say what you will do, not what you think might happen. For example, "I'm going to keep my leg on through this corner," "I'm going to look ahead and stay tall to this jump," "I'm going to ride every step to the base of this jump." These are more positive statements and give you a plan instead of instilling negative thoughts pre-round. Again, this is hard and full-transparency - I'm still working on getting better and more consistent at this.

Do not, I repeat DO NOT, focus on ribbons.

Getting to finals in and of itself is a huge accomplishment. You do not want the added stress of "having to win a ribbon." To take away from that. Not focusing on ribbons does not mean engaging in negative self-talk - which I have done and is not what I am recommending here. Focus on things that are non-tangible like making it to finals, having fun, putting in a ride better than your last, improving from your finals experience the previous year, etc. There is more to life than ribbons, and you don't want that to overshadow the amazing feat of making it to finals.
- Sarah Bachor
About Sarah
Adult-Amateur Hunter Jumper/Equitation rider, Sarah Bachor, human to Ocelot and Enzo balances being an equestrian with being a practicing physician assistant and educator. 
Follow Sarah on Instagram: @oxers2oncology
Read her blog: Oxers2oncology.com
What Sarah loves about BOTORI:
BOTORI is timeless and trendy all in one. Better yet, they are affordable pieces for all riders. I love that BOTORI can be worn anywhere - the gym, barn, work, out on the town! Quite literally anywhere.
Sarah wears the Adler breech paired with the Emmi top and Slide belt.