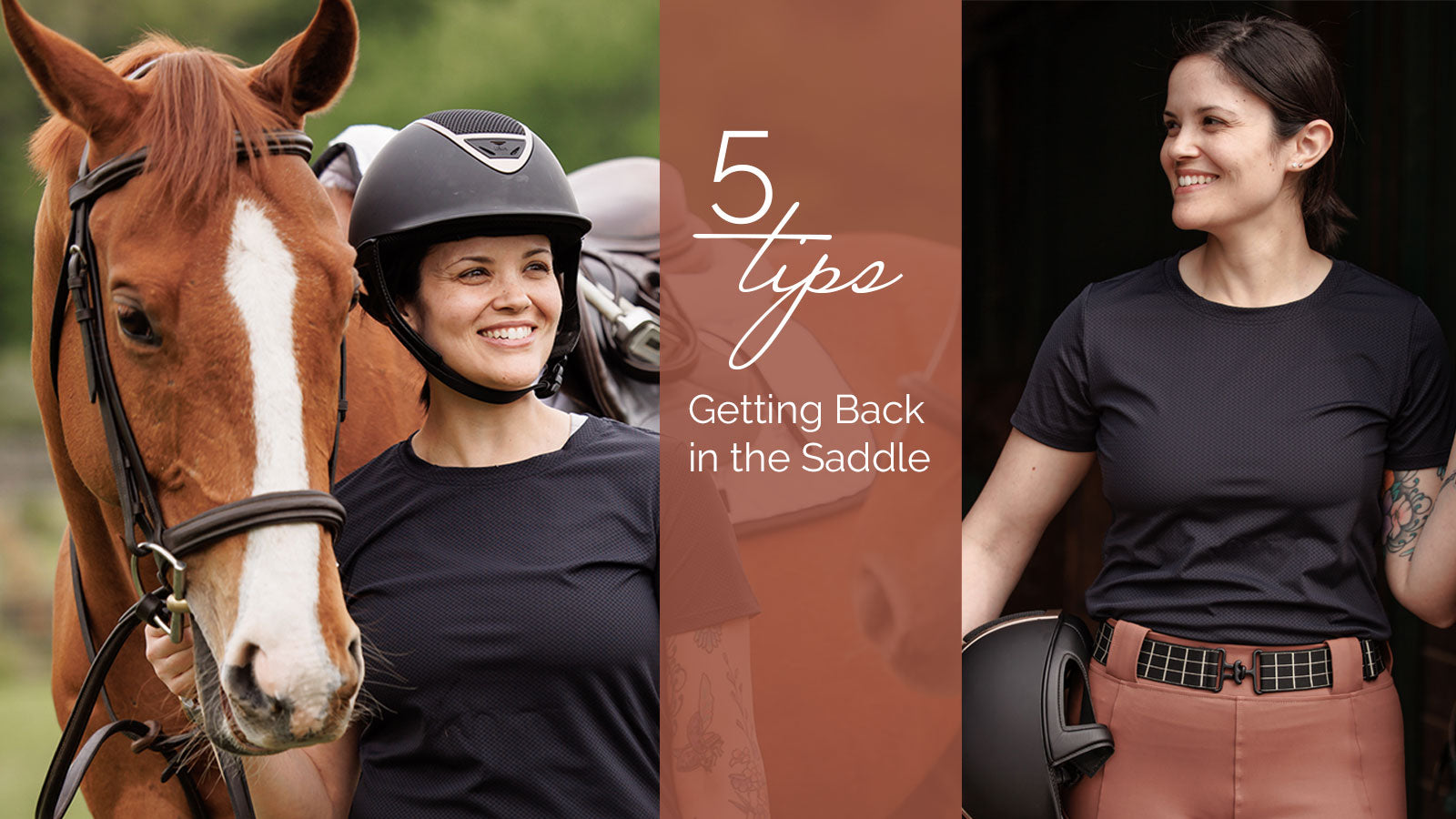 5 Tips for Getting Back in the Saddle
Getting back in the saddle after a hiatus, no matter how short or long, can be intimidating. However, it's a great opportunity to reconnect with the sport, and learn things about yourself that you may not have had the chance to discover during your previous riding career.
The best way to approach getting back in the saddle is to take it one step at a time.
Go to the barn. If you are feeling anxious about riding again after an extended period of time off, a great way to warm yourself back up to it is to just simply go to the barn. Do you have connections to a trainer, or a friend that still rides? Reach out to them and ask if you can stop by the barn and smell that delicious horse scent that we all (strangely) love so much. Those anxious thoughts may be replaced by the pure joy we experience simply by being around horses. And, watching other people ride may increase your stoke for getting back in the saddle.
Take a lesson. If it's been a long time since you've ridden, taking a lesson is a great way to de-risk getting back in the saddle. Working with a professional provides a safe space to ensure you're focused on the right position and movement. Getting into a learning frame of mind can also help ease any anxiety you may be experiencing. Be sure to communicate with your trainer about the last time you rode, your experience level, and the context of your hiatus. This is especially important if you were taking time off due to an injury.
Get back on a schedule. This is critical for increasing your confidence when getting back in the saddle. If you are riding too sporadically, those anxious or worried feelings may linger for longer. If you are able to ride on a more consistent schedule, especially if you're in a lesson program, that will help improve your skills and increase your confidence.
Communicate early and often. Be sure that you are telling your trainer and your fellow riding partners how you are feeling about being back in the saddle. If you are feeling anxious or nervous, it can be beneficial to voice that to your riding community to get the support you need. Be sure to tell your trainer how you are feeling during your journey of getting back into riding. If you are feeling confident and want to progress faster, let your trainer know. Or, if you feel like things are moving too fast, and you're feeling nervous, be sure to voice that as well. Moving at a pace you are comfortable with is key.
Believe in yourself! Riding is a special sport, and it takes a special kind of person to commit to the mental and physical aspects of getting in the saddle and connecting with a horse. The first time you swing your leg over that horse's back and settle into your seat, thank yourself for giving yourself the gift of getting back in the saddle, and enjoy every second of it!
- Danielle Bertini
About Danielle
Danielle is a Product Manager living in New Jersey. When she's not working from home with her three cats, writing requirements for software solutions, she's riding her chestnut OTTB, Rugby. Danielle got back in the saddle after an almost 10 year hiatus due to a back injury that caused chronic pain. After some intense physical therapy and a full recovery, Danielle is back in the saddle, looking forward to jumping and getting back in the show ring on her trusty (albeit goofy) steed.
Why Danielle loves BOTORI
When I got back into riding, I desperately needed to re-up my equestrian wardrobe. A recommendation from a friend guided me to BOTORI as one of my first pairs of breeches. My favorite BOTORI item is the Adler breech. They are durable, comfortable, and look super sharp with a belt!