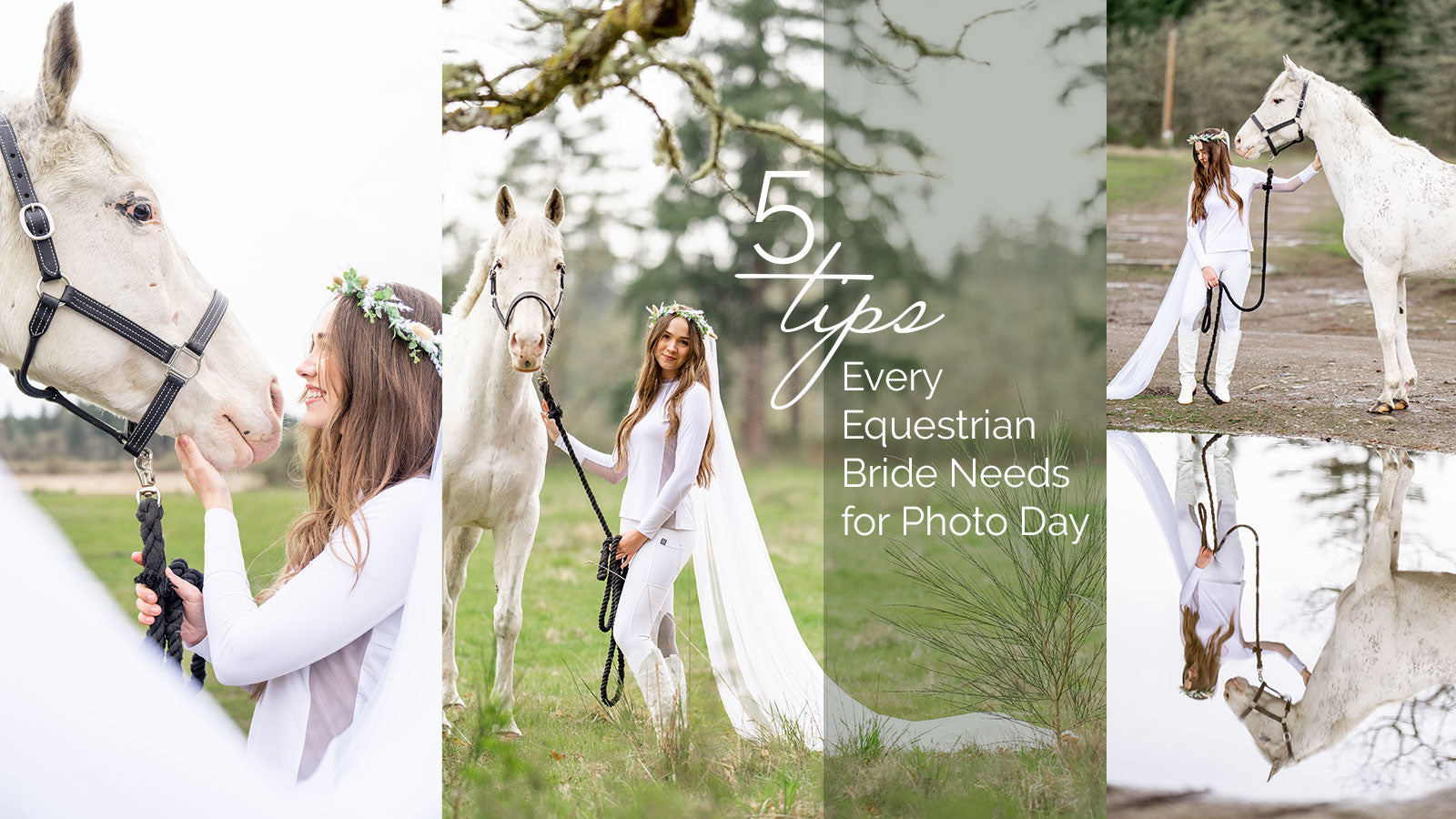 5 Items Every Equestrian Bride Needs for Photo Day
Congrats equestrian brides! Making the choice to involve your horse in your wedding day is a big one, and extremely exciting. Pulling from years of experience photographing both weddings and horse and rider portraits, Kayla Norene Photography brings you five frequently overlooked tips that will really help remove stress from your special day. 
Already married or not planning on it any time soon? Well, get dressed up because these tips apply to any photoshoot involving you and your horse. 
Horse Handler: You absolutely love your horse and want them involved in your special day, we get that. However, your wedding day has so many exciting moments and there will be times that you can't manage your horse alone. Assigning a trusted person like a trainer or barn friend the task of handling your horse is a huge stress relief on your special day. This person can also help get ears forward for your wedding portraits and ensure your horse is relaxed and enjoying your wedding day as well. I recommend assigning this task to someone who knows your horse and is able to haul them back to the barn if it's in the best interest of your horse and guests. 
Cleanliness Kit: The cleanliness kit includes: leather cleaner, Tide to Go pen, washcloth, and of course your horse's grooming kit including fly and shine spray. Although these items are small, they are quite mighty to the overall cleanliness and quality of your wedding day images. So make sure you pack your emergency cleaning gear prior to your special day! If you are very nervous about getting your dress dirty, it is best to have a second dress for hanging out with your horse, or involving your horse in your wedding day another way like portraits in the evening, the day after, or engagement portraits with your horse. 
Tack Emergency Kit: The last thing you want is for your beautiful bridle to fall apart and have no backup for your special day. I recommend packing spare clips, conchos, rivets, reins, headstall and halter. Having the backup and emergency tack kit will ensure a stress free day. Ensure your horse handler knows how to properly tack your horse and where to put all your tack. These are not things you will want to be worried about on the day of your wedding. 
Sugar Cubes: You may be wondering why "sugar cubes" instead of "horse treats". Sugar cubes are colorless and will not create stains or crumbs. If you want to ensure your horse is rewarded for their wedding day participation be sure to choose treats that won't create a mess. 
White Tights: White riding tights are absolutely perfect to wear under your dress for portraits. This is the prime way to ensure you don't flash any wedding guests or cameras when getting on and off your horse. The knee patches also help keep you secure on your horse while you are riding around on your wedding day. These leggings are unnoticeable under most wedding dresses and extremely lightweight and comfortable! 

About Kayla
Kayla Norene Photography is an equestrian photographer located in Washington state. She took her experiences in the elopement and equestrian industries to curate this blog of items you may have missed for your wedding day. You can keep up on her work at her website www.kaylanorenephotography.com or on social media @kaylanorenephotography
Shop the look
BOTORI has two styles of tights in white: Taylor and Kate. Both are the same white performance fabric, but the Taylor riding tights have a white mesh pocket and cuff with a gray knee patch (shown in the photos here), and the Kate riding tights feature a solid pocket with no cuff, a cream colored knee patch, and slightly longer inseam. 
Our model Tatum is also wearing the Riley technical top in white with gray mesh accents. 
Our horse model Truman is wearing a halter from Remarkable Leather Goods.