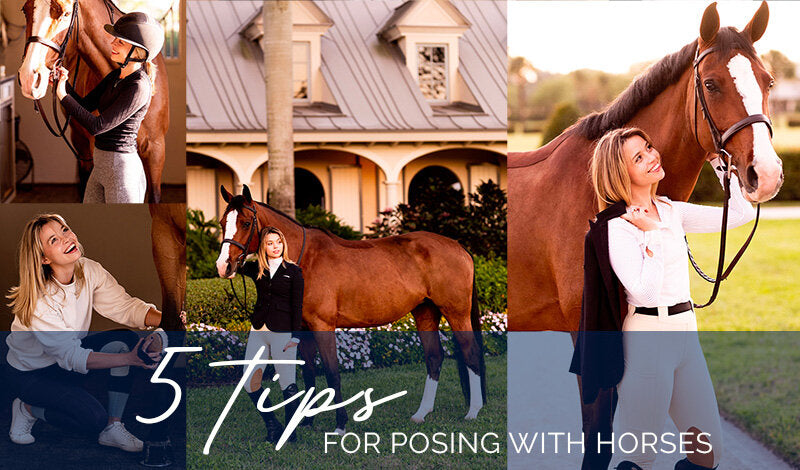 5 Tips for Posing with Horses
While giving direction from behind the camera, it's important to me that I remember what it feels like when I'm in front of it. Here are 5 tips to perfect posing, whether you're behind the camera or stepping in front of it.
It's all about angles.

Posing your body so that you're not just facing the camera head on makes your photos dynamic, and is more flattering overall. A leg pop is your best friend. Bending one knee and while slightly lifting your heel off the ground give your photos that extra attitude and pep.

Keep your hands engaged at all times!

Laying them flat on your horse, grasping the reins, and keeping your fingers together makes your hands look intentional and not to loose. Floppy hands are likely to be the first thing someone notices in the photos, and posing them more intentionally keeps the photo sharp.

Shoots can be very long, and we all get a little dead faced after an hour. One way to

brighten up your expression

is to close your eyes, take a deep breath, and open them on a slow exhale. This will help your eyes pop and help you relax some tired + tense face muscles.

Fake laugh until it feels real.

While a "fake laugh" can often feel artificial, after doing it for a few seconds and giving into the silliness of it, you'll start to feel a real laugh. This is how you get your bright and laughing expression to come across as more authentic, and it brightens the tone of your photos overall.

Interacting with your horse

a lot takes away a lot of the pressure of having to always choose new poses, and is likely how you'll feel most comfortable anyway. You'll probably catch yourself having to skip the fake laughs and deep breaths because your four-legged friend will be there to keep you smiling and relaxed.
- Shelby Phillips, Photographer
About Shelby
Shelby Phillips is an NYC-based equine + wedding photographer who has been involved in the horse world for the past 5+ years. When she's not editing or on a shoot, she loves spending time at the barn on trail or prepping for a show. She is also an actor and all-around creative.
Follow her on IG: @shelbyphillipsphotography
View her photography website
Why Shelby loves BOTORI
As someone who lives in NYC and commutes over an hour to my barn, I need pants that are going to be comfortable and versatile. My BOTORIs are perfect because I spend hours in them and transition seamlessly between different parts of my day: the barn, the gym, and even my job at a tack shop.