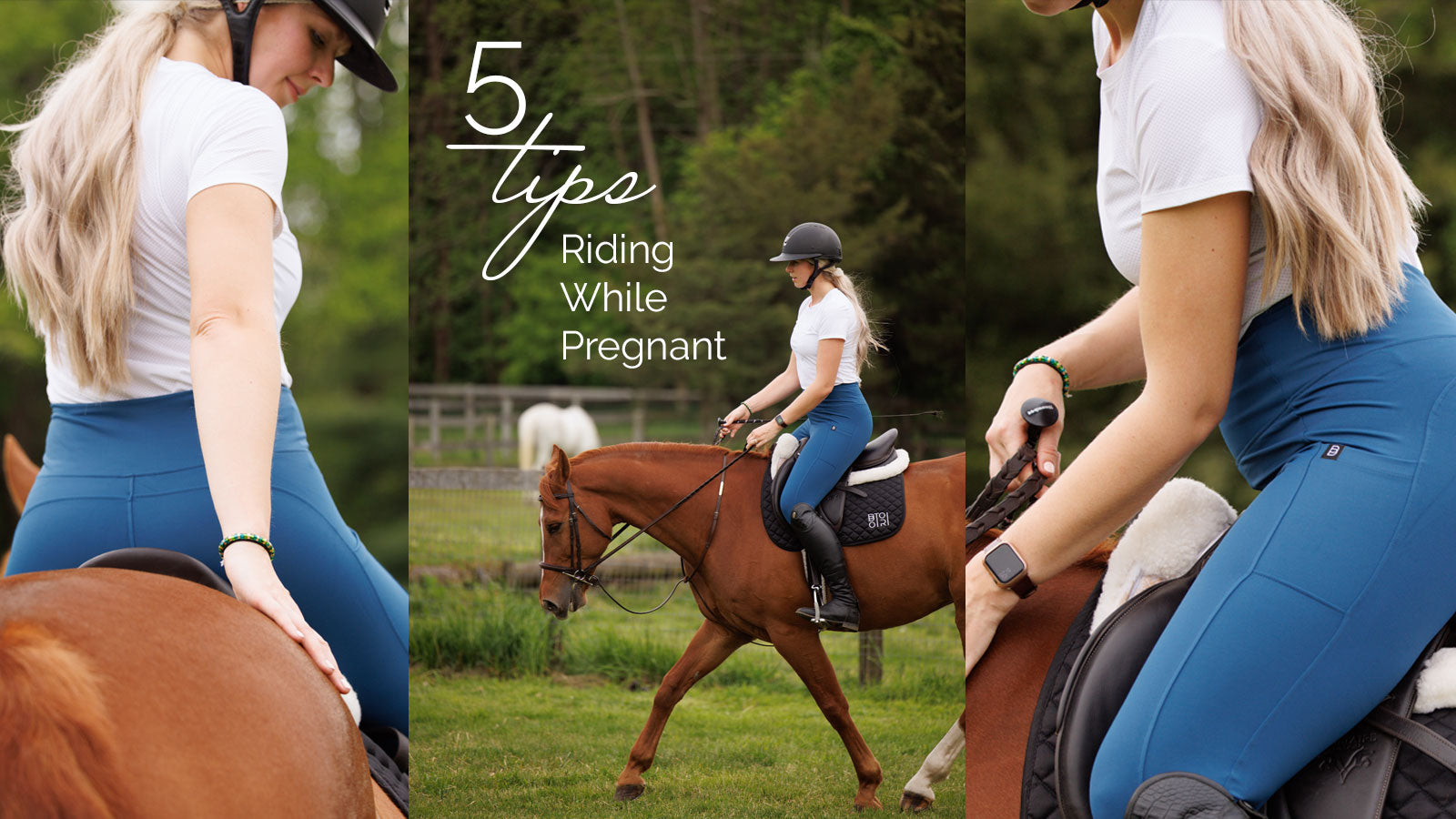 5 Tips for Riding While Pregnant
Ultimately, whether or not one continues riding during pregnancy is a personal decision. There are many factors to this decision, but as mother of two (soon to be 3), I wanted to share a few of my tips on continuing to ride while pregnant.  
1. Listen to your body: The most important thing, in my opinion, is to listen to your body throughout pregnancy.  Performing any strenuous activity while pregnant means you have to take it day by day. Your body is going through numerous changes. Give yourself grace and listen when your body says you need to slow down. Also, make sure to take care of your body – hydrate and stretch prior to riding! 
2. Listen to your doctor: Talk to your doctor. With my first pregnancy, my doctors told me that now is not the time to try out any extreme sports for the first time. What he meant was, if you are new to riding or feel like you are not confident in your own skills, it is recommended to wait until after pregnancy to get in the saddle. Personally, I have been on horseback with my mom since before I could walk, so I felt very comfortable continuing to ride throughout my pregnancies. 
3. Choose a safe mount: Having a trustworthy mount during pregnancy is of the utmost importance. Now is not the time to hop on the green baby horse for the first time. You should make sure that you trust and feel safe on any horse you are riding during pregnancy. Avoid horses with notoriously unpredictable behavior. 
4. Adjust your riding: Making adjustments in your riding at some point during your pregnancy will be necessary no matter which discipline you ride. Your body will be constantly changing, and what was comfortable last week may not feel comfortable or safe any longer. With my first and second babies, I continued riding as normal until I felt my balance was affected when my belly started to pop. This time around, the horse I've had for almost 20 years (Gus) is retired and my new young horse, Leo, is still green over fences. I am choosing to wait to continue jumping him until after pregnancy. 
5. Adjust your expectations: Take it day by day and try not to be too hard on yourself if you have to make adjustments to your riding goals sooner than expected. Be easy on yourself, you are growing a human and undergoing a lot of stress at this time. There will be plenty of opportunities to ride and show in the future and one of the most wonderful things about our sport is that there is no age limit to it! Keep your expectations realistic and again, give yourself grace.
- Emiline Fitzgerald
Editor's note: Since writing this blog, Emiline opted to stop riding at around 31 weeks pregnant. When asked how she knew when to stop, she replied "I felt like my balance was being affected. I could tell that I was leaning forward more than I wanted to and I didn't want to become a nuisance to Leo even though he seemed to not mind carting me around! I was also getting some hip pain after riding which is to be expected, especially when riding wider horses."
Emiline is 16 weeks pregnant in the photos in this blog. She is wearing the Andi riding tights and Diamond Tech Tee. 
About Emiline
Emiline is a wife and mother of two and is currently expecting her third baby. She works full time as an attorney and is fortunate to work from home so she can spend more time with her family. She is a lifelong equestrian and has two horses, Augustus ("Gus") and Leopold ("Leo"). Gus is her retired competition horse and Leo is her young import who she is bringing along with the help of her trainer. Emiline grew up in New Jersey and continues to reside there.
Check her out on Instagram at @Emiline_Eq
Why Emiline loves BOTORI
Comfortable, stylish, and dirt resistant! What more could you want? I love the stretch and belt loops on the Adlers. You can still look sharp while being comfortable. The compressive and dirt resistant material of the Andi riding tights is incredible, especially during pregnancy!