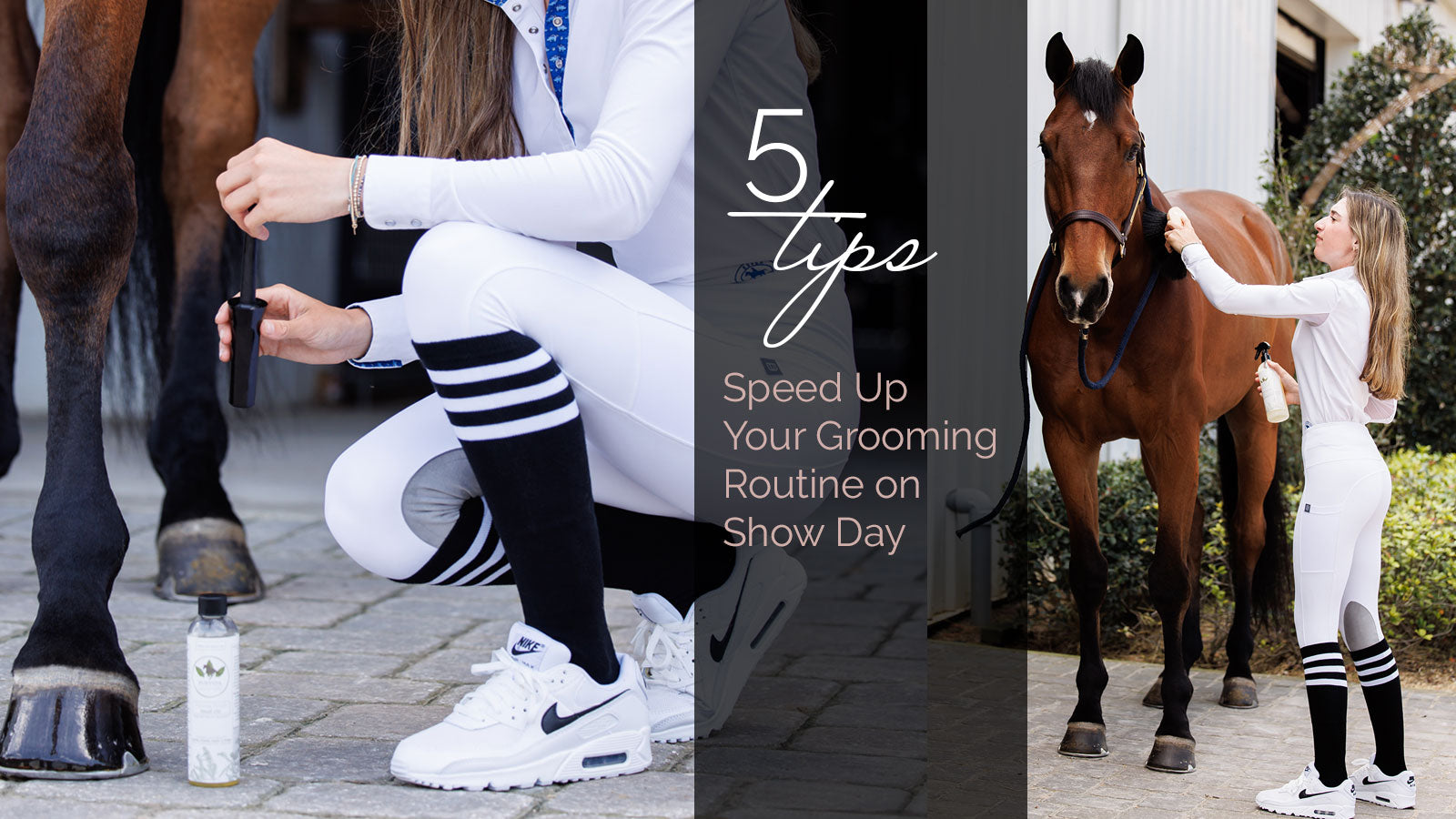 5 Tips to Speed Up Your Grooming Routine on Show Day
The day you've been training for is finally here — it's show day, and whether you're competing at your first schooling show or at the national level, you want your horse to shine in the show ring. If you've ever struggled with finding the time to do a proper grooming before you head to the ring this one's for you. 
Between packing for both you and your horse, making sure they're well-taken care of, getting yourself organized with the show office, learning your course, and warming up, there are a lot of balls in the air on show morning and trying to keep both you and your horse clean can be a challenge.  While we can't add hours to the day, we can help you develop a quick, easy, and effective horse show grooming routine so you'll shine like a pro at your next show.
Check out our top 5 tips to speeding up your horse show grooming routine below (and hint... there's a discount code at the end!):  
Start and maintain a regular grooming schedule. There's no substitute for regular grooming. It gives you a head start on prepping for show day. Daily grooming paired with a grooming spray like Purvida Healthy Horse's

All-In-One Grooming Spray

will help your horse start cleaner and shinier, which means less work for you when show stress sets in. You can also use daily grooming as time to deal with fungus or bare spots. Regular use of topical treatments like Purvida Healthy Horse's

Barrier Balm

will help clear up issues and promote hair re-growth in time for show day.
Keep a separate show grooming kit stocked with all your essentials for show day, from brushes and hoof picks to rubber bands, hoof oil, fly spray etc. That way you're pre-packed and ready to go, and you'll have super clean show brushes all the time.

 

Pro-Tip: using multi-functional products like Purvida's

All-In-One Grooming Spray

or

Hoof Oil

can help you be more efficient and also leave more room for other important items

 

If the warm-up ring is muddy, use polo wraps to keep white markings as fresh as possible. This will make it quick and easy to hose down their legs after to remove any remaining dirt

 

Final touch-up tips: use zinc oxide ointment to cover up any thin or bare patches of hair on white legs for a natural, healthier alternative to common touch-up sprays. Heading to the Hunter ring? Add a natural glow to your horses face by applying a small amount of Purvida's

All-In-One Grooming Spray

to your horses muzzle, eyes, and ears. Bonus: it will also help keep the flies out of those sensitive areas

 

Get shiny hooves that don't attract dust by using a quick-absorbing hoof oil like

Purvida Polish

. Pro-Tip: Let it absorb for a few minutes and then wipe any excess so less dirt sticks
About Amanda Lee and Purvida Healthy Horse
After taking a deeper look into what really goes into common equine grooming products, Amanda launched Purvida Healthy Horse to create a better way to care for our horses and overhaul the grooming box. She now dedicates her time to working with a team of experts, meticulous in sourcing the safest and most effective ingredients from around the world, to create real solutions to equine grooming problems that really feed your horse's skin from the outside.
Follow on Instagram: @purvidahealthyhorse
Shop the website and save 15% with code BOTORI thru 5/1/23: purvidahealthyhorse.com
Outfit details
BOTORI was thrilled partner with Purvida Healthy Horse and Gold Horse Media for a photoshoot at the impeccable World Equestrian Center. Our models were Elle Ehman and her handsome horse Yung Gravy. Elle is wearing the Taylor riding tights and our signature striped boot socks. 
PS - I was at the shoot and can attest that these grooming products smell amazing!