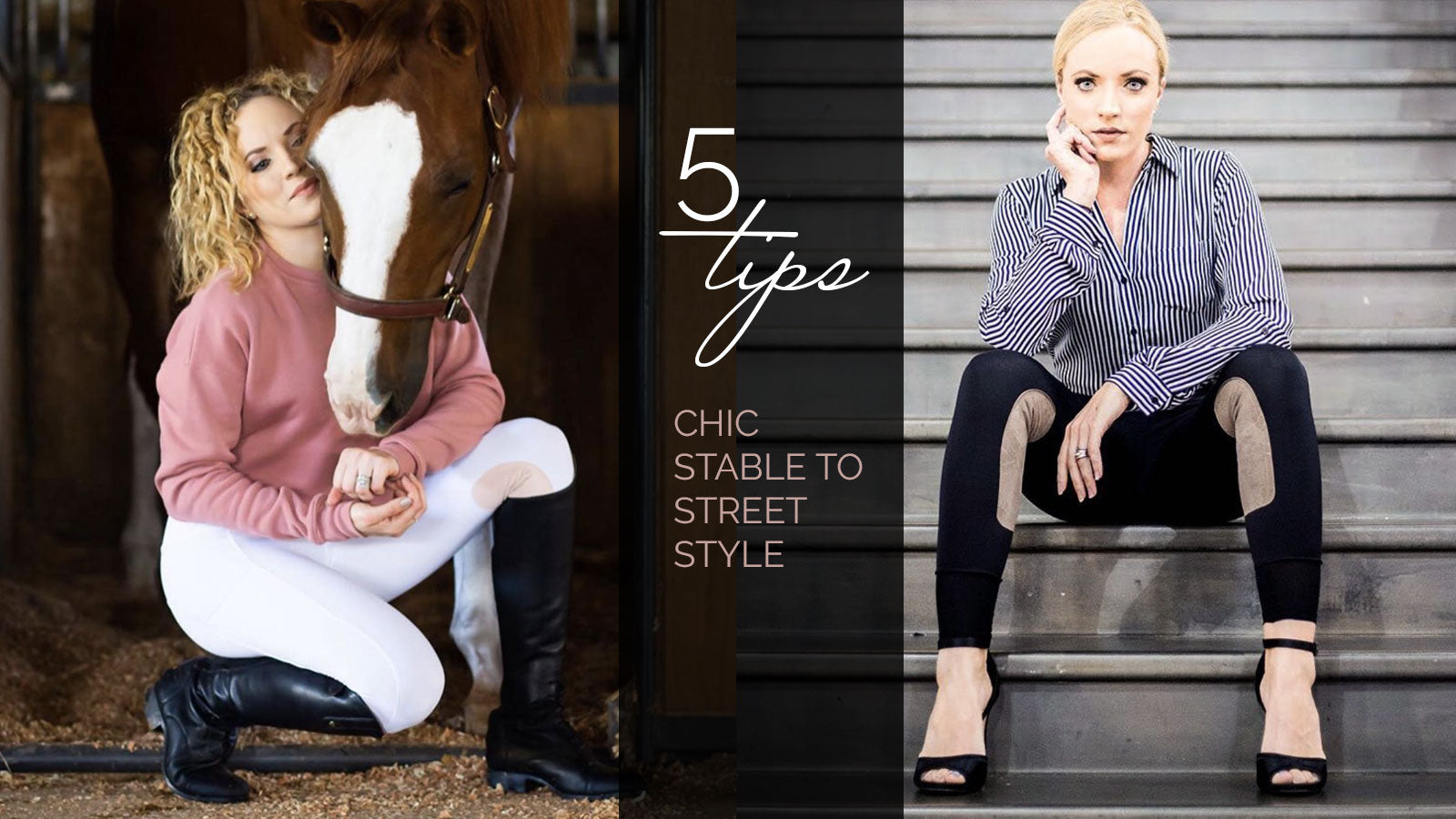 5 Tips for Chic Stable to Street Style
Barn + work + life balance is something every equestrian can relate to! Finding ways to minimize the time we spend shuffling between these is one of the ways we can help achieve balance in our busy lives! Stable to street outfits allow you to blur the lines between your riding outfits and your day to day looks and can make a big difference when juggling your day-to-day activities! Here are some tips to help you create the perfect stable to street outfits and look your best in the process!
Pick a clothing staple that can transitions seamlessly between the barn and beyond! From a chic and sophisticated work/event look, to a riding outfit, and a more casual "barn and beyond" look! Each super cute and functional!

Find accessories that show off your equestrian passion but are simple enough to easily transition between other outfits away from the barn! Here I wore a braided horsehair bracelet, a bit bracelet and a horseshoe bracelet that were the perfect additions to each of my outfits! I also love how knee patch breeches/riding tights can add equestrian inspiration to any look!

Don't be afraid to wear your riding boots outside of the barn! Let's be honest, we take a lot of pride in our riding boots and there are lots of outfit options that they look absolutely dreamy with! So switch things up and pair with jeans or a cute dress! You would be surprised at how many compliments you will get by showing off that unique eq-inspo!

Grab a horsey graphic tee or sweatshirt! This is a great option to nail a good stable to street look! You can wear them to the barn and out an about very seamlessly and they pair so perfectly with breeches, tights or jeans! Slip into some cute loafers and head to your next activity!

Last but not least, have fun with it and let your passion and personal style shine through! And who knows, you may inspire someone along the way! 
- Joslyn Jakoubek
About Joslyn
Wife, mother, and hunter/jumper rider Joslyn has always been passionate about the equestrian industry and lifestyle. As an avid rider and a lover of style and fashion, she finds joy bringing equestrian inspired outfits to life both at the barn and in everyday style. In addition to riding and competing on her horse Dolce, finding her path as an equestrian influencer and blogger has given her the opportunity to keep her passion alive and share it with other likeminded men and women around the world. 
Follow her on Instagram: @joslynj_equestrian
Why Joslyn Loves BOTORI
I love BOTORI because it is the perfect brand for the modern equestrian and keeps style, practicality and functionality at the forefront of their designs. The material is incredibly flattering and very easy to wipe clean…perfect for the busy equestrian who may not have time to change between activities! Versatile and fashionable, these riding tights will keep you looking your absolute best no mater what life throws at you!