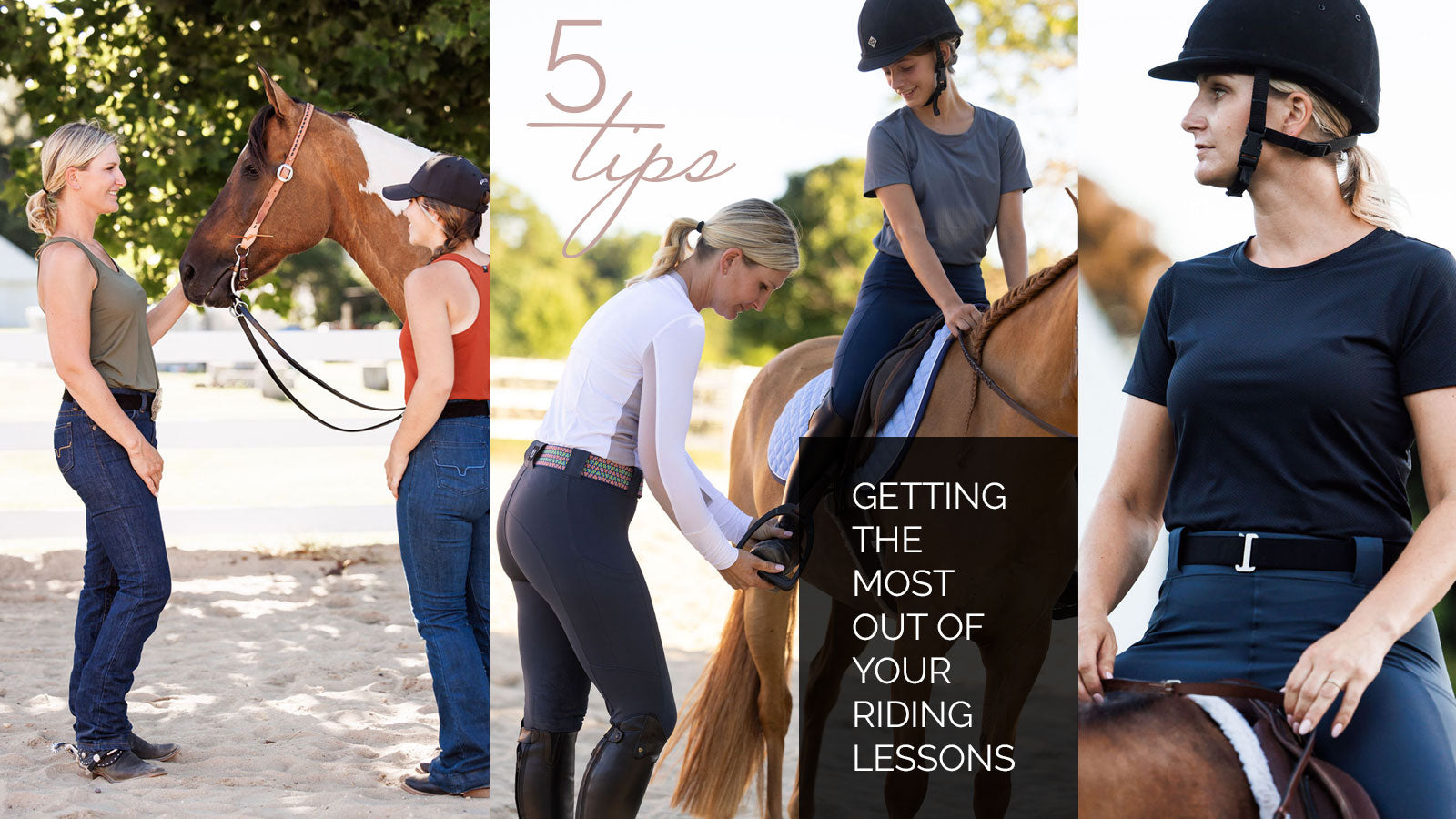 5 Tips for Getting the Most Out of Your Riding Lessons
As summer comes to an end and shows start to slow down, many students begin to focus on their goals for next years show season. It all starts with getting back to schooling and setting up consistent lessons. As a full time instructor of a successful lesson program of all levels and multiple disciples, I would like to share my 5 top tips for getting the most out of your lessons. 
Be prepared: Being prepared for your lesson is more than just being in the arena and tacked up on time. Make sure tack and equipment is in good shape and fits properly 

to

 both you and your horse. Dress for the weather accordingly 

to

 make sure you get the most out of your lesson and don't have 

to

 end short because you become too uncomfortable from the heat or the cold. The biggest way you can be prepared is 

to

 be mentally focused and free of distractions during your scheduled lesson time. 
Get ready 

to

 be challenged and step away from your comfort zone: As an instructor, it's my job 

to

 push my students 

to

 better their riding and understanding of their discipline. Unique exercises that they may find a little difficult or uncomfortable in the beginning are expected almost every lesson. Those exercises are being asked of them for a specific reason and will 

help

 progress their riding or their horses training. Some lessons may feel like a breeze and others may push you out of your comfort zone.
Let your Instructor know if something is upsetting you: Life is messy and unpredictable.  Some days your scheduled lesson may fall on a day where everything seems 

to

 be going wrong.  Let your instructor know your mindset as you begin your lesson. Lessons can always be tailored. A super tough ride may not be the most productive on a day when you are simply unable 

to

 give it your all. And that is OK! 
Stay in touch between lessons: I LOVE hearing from my students between lessons when they are working on their own. Letting me know how an exercise has finally helped them overcome something that has been difficult is the best!  It also helps me plan for the next lesson. Some students may need 

to

 go over the same exercise a few times or have it shown or explained 

to

 them differently. 
Don't be afraid 

to

 ask questions: If you don't understand something, please ask. It is important for riders 

to

 understand the 'why' in an exercise.  'Why does it 

help

?'  'Why am I doing this?' 'Why is this beneficial 

to

 my horse?'  If you leave a lesson feeling like you don't fully understand an exercise or how 

to

 effectively use your aids, write down your questions 

to

 review at the beginning of your next lesson.  
I hope these 

tips

 

help

 you gain confidence when scheduling your next lesson knowing you will get the most from your time in the saddle.  Happy riding! 
- Katie Pratt
About Katie
Katie Pratt is a wife and mother of two boys who owns and operates her full service boarding facility, A Bit of Pleasure Farm, in Mullica Hill, New Jersey. Katie has a successful lesson and training program across multiple disciples and levels at her farm. 
Why I love BOTORI
My favorite BOTORI items are the 
Riley Technical Top
 and
Diamond Tech Tank.
Teaching long hours year round means lots layers 
to
 stay comfortable! These items are so versatile, look professional, and handle the workload of a long barn day and still look great.