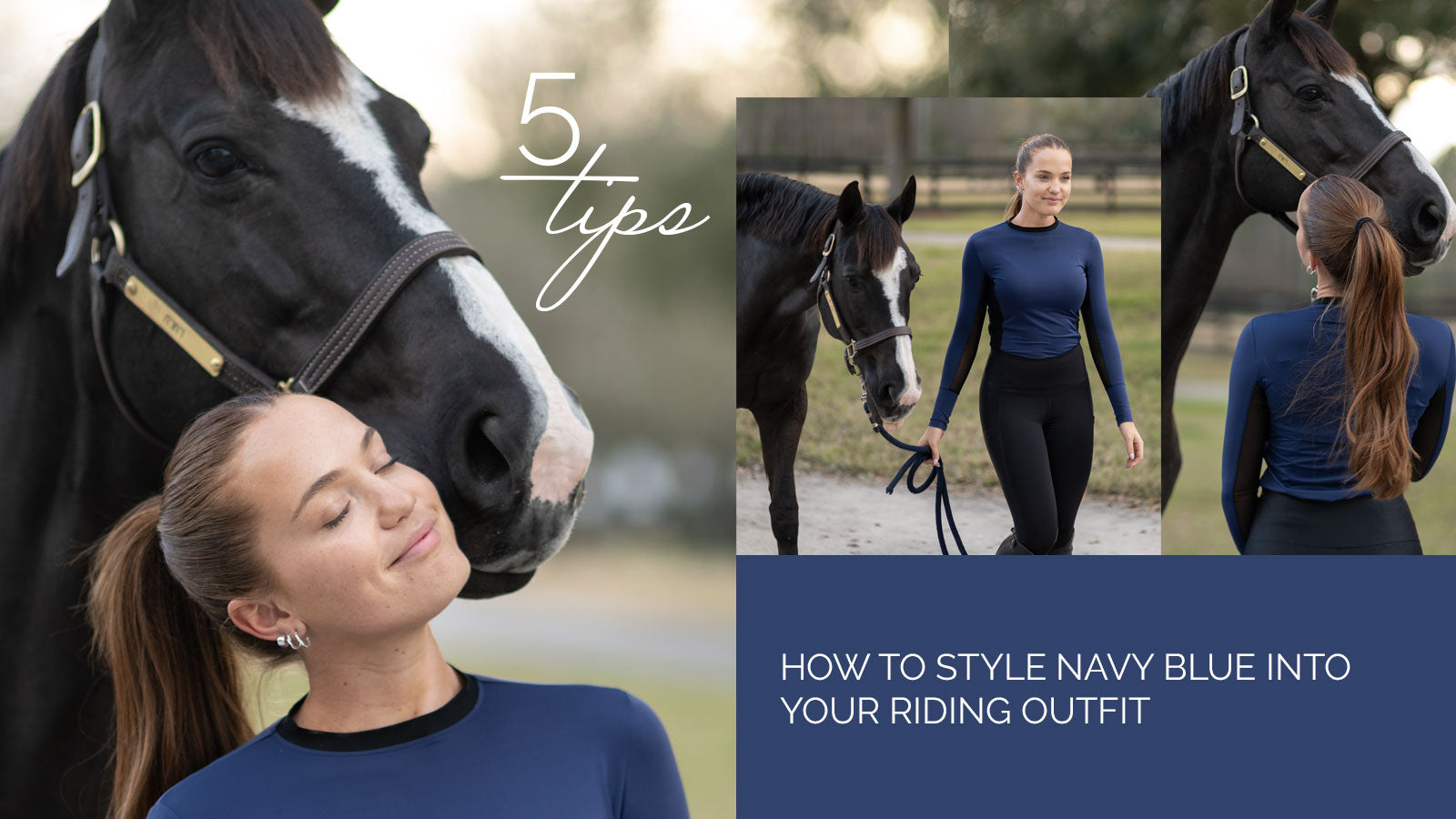 5 Ways to Style Navy Blue and Black (or White)
Navy blue is a classic equestrian color that is easily transition from stable to street. Read these tips on how to style navy blue with your #rootd, tack, and even your horse. 
Eek! I love this riding top. Can I wear navy blue and black together? 
Yes, you can definitely wear navy and black together! They are both classic, neutral colors that complement each other well. One way to wear black and navy blue together is to pair them with black riding breeches or riding tights. This creates a sleek and unique professional look that is perfect for a riding lesson. 
Just like the color black, navy blue conveys power, intelligence, and confidence.
How do I style navy blue with either black or white?
Our navy blue Riley shirt is a versatile piece of clothing that can easily be dressed up or down, whether at the stable or on the street.
5 tips for styling navy blue into your riding outfit:
For a casual look, pair the navy blue shirt with a pair of distressed jeans and sneakers. This is a great look for a weekend brunch or running errands.

For a more formal equestrian look, tuck the navy blue shirt into breeches and add a pair of polished boots. This is a crisp look for a lesson or clinic.

When styling a navy blue shirt, don't be afraid to mix and match different accessories to create a look that is uniquely you. An

elastic slide belt

is a great way to add some color to the neutral tone of the blue.

For extra coverage from the sun, wear the navy blue and white Riley top over a bathing suit or with white shorts to the beach. The fabric protects from UV rays while ventilating in the heat.

Wear the navy Riley top as a base layer on a cold day. The simple black or white mesh trim at the collar is a perfect neutral for pairing with any other layers and outerwear.
With a few simple styling tips, you can take a classic navy blue shirt and make it your own.
What color horse looks best with navy?
Ok, so now you have your riding outfit picked out. How does it look next to your favorite horse? Navy blue is a classic equestrian color that can look great against a variety of horse coat colors. 
Some popular color combinations include:
Navy blue on a chestnut horse: This creates a striking contrast between the rich red-brown of the horse's coat and the deep blue of your riding outfit.

Navy blue on a black horse: This creates a sleek and sophisticated look, with the deep blue complementing the horse's shiny black coat.

Navy blue on a gray horse: This creates a subtle and elegant look, with the cool blue tone complementing the horse's silver-gray coat.

Navy blue on a white horse: This creates a fresh and clean look, with the crisp blue tone contrasting nicely with the horse's white coat.

Navy blue on a bay horse: This creates a harmonious look, with the rich brown and black tones of the bay horse's coat pattern complementing the deep blue of your outfit.
Of course, while the color of the horse really isn't important, it can be fun to match your tack and try new color combinations! 
However, the most important thing in deciding your outfit is the fit and comfort of your riding apparel. Always choose breeches and riding tops made from high-quality materials to ensure your comfort in the saddle in any weather.
When you feel good about your appearance, you tend to have higher self-esteem and confidence, which can lead to improved mood and overall well-being. And that equals - you guessed it - a better ride for you and your horse.
Go Navy!
Navy blue and black and navy blue and white are classic color combinations that complement each other well. And paired with riding breeches or riding tights in black, white, tan or even more navy, creates a sleek, stylish look. 
Balance the two colors in an outfit, so one doesn't overpower the other. Start with a navy blue item and build the outfit with black accents like gloves, belts, and boots. Pay attention to the details and proportions, and you'll have a beautiful, cohesive outfit.